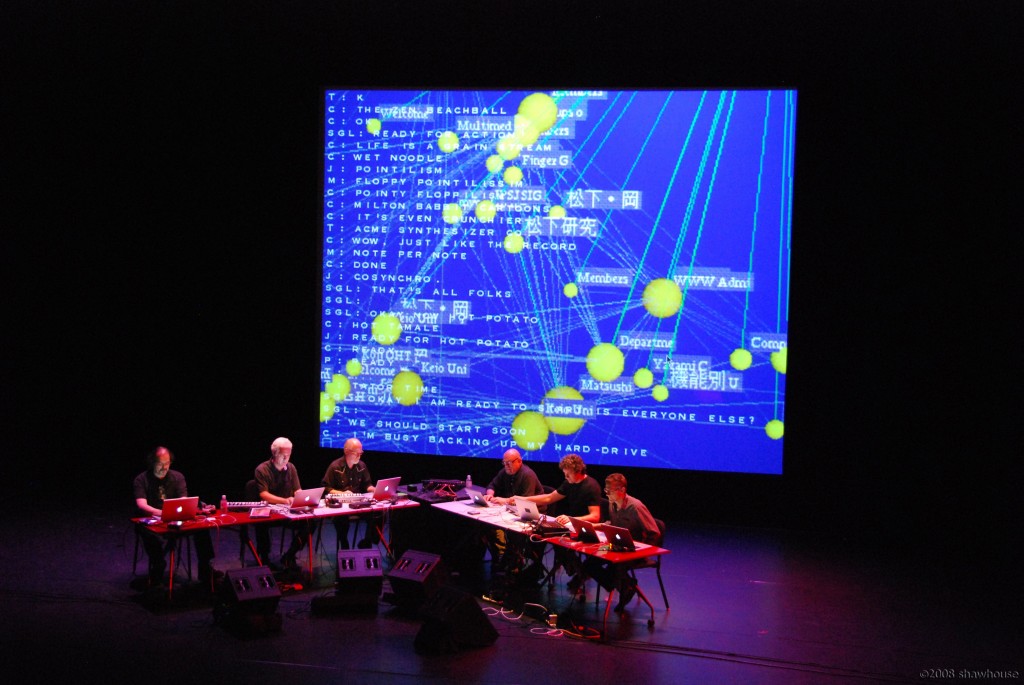 Computer network music, as practiced by The Hub over the last two decades, is characterized by the sharing of digital information via a network, which is used to algorithmically influence the music played by each player in the group. This form of interaction provides the opportunity for composer/performers using computers to use the unique attributes of this instantaneous sharing to create new ensemble relations. The musical behavior that results when each performer individually creates their own realization of a data-sharing specification in a variety of computer music languages affords a rich and unpredictable environment. Emergent behaviors and inexplicable synchronicities abound, and are used to enhance a collaborative, and improvisational performance practice. Their festival performance will include recent group configurations featuring spectral analysis of acoustic objects, room resonance as a data source, as well as hyper-improvisational mapping of shared values among other schemes.
 http://crossfade.walkerart.org/brownbischoff/index.html
JOHN BISCHOFF (b. 1949) is an early pioneer of live computer music. He is known for his solo constructions in real-time synthesis as well as his contributions to the development of computer network music. He has been active in the experimental music scene in the Bay Area and around the world, working for over 40 years as a composer, performer, and teacher. He is a founding member of the League of Automatic Music Composers, the world's first computer network band (1978), and from 1985 to the present he has performed and recorded with the network band The Hub. In 1999 he received an award from the Foundation for Contemporary Performance Arts in recognition of his music. Recordings of his work are available on Lovely Music, 23Five, Tzadik, Artifact, and most recently on New World Records. He is currently an Associate Professor in the Music Department at Mills College in Oakland, California.
CHRIS BROWN, composer, pianist, and electronic musician, creates music for acoustic instruments with interactive electronics, for computer networks, and for improvising ensembles.  Collaboration and improvisation are consistent themes in his work, as well as the invention and performance of new electronic instruments. These range from electro-acoustic instruments ("Gazamba", 1982), to acoustic instrument transformation systems ("Lava", 1992),  and audience interactive FM radio installations ("Transmissions", 2004). He also writes his own interactive music software that he uses in his compositions and improvisations. Recordings of his music are available on New World, Tzadik,  Pogus, Intakt,  Rastascan, Ecstatic Peace, Red Toucan, SIRR, Leo, and Artifact labels. He was a featured composer/performer on the 2009 Donaueschingen MusikTage.He studied performance and composition at UC/Santa Cruz with Gordon Mumma and William Brooks, and then studied Electronic Music at Mills College with David Rosenboom.  He is currently a Professor of Music at Mills College and Co-Director of the Center for Contemporary Music (CCM).
TIM PERKIS (b.1951) has been working in the medium of live electronic and computer sound for many years, performing and recording in North America, Europe and Japan. In addition, he is a well known performer in the world of improvised music, having performed on his electronic improvisation instruments with hundreds of artists and groups, including John Butcher, Eugene Chadbourne, Fred Frith, Gianni Gebbia, Frank Gratkowski, Leo Wadada Smith and John Zorn. Ongoing groups he has founded or played in include the League of Automatic Music Composers and the Hub — pioneering live computer network bands. He has been composer-in-residence at Mills College, artist-in-residence at Xerox's Palo Alto Research Center, and taught at the California Institute for the Arts. In 2013 he is a resident researcher at the Université d'Aix-Marseille in France.  He is also producer and director of a feature-length documentary on musicians and sound artists in the San Francisco Bay area called NOISY PEOPLE (2007).
MARK TRAYLE (b. 1955) works in a variety of media including live electronic music, installations, improvisation, and compositions for chamber ensembles. Performances and exhibitions include Ars Electronica, t-u-b-e (Munich), DEAF (Rotterdam), Resistance Fluctuations (LA), net_condition (ZKM Karlsruhe), Sea and Space (LA), Pro Musica Nova, Format5 (Berlin), Inventionen (Berlin), and Resonant Forms (LA). His music has been performed by Champs D'Action, Ensemble Zwischentoene, Kammerensemble Neue Musik Berlin, and Ensemble Mosaik. Recent collaborators include Muhal Richard Abrams, David Behrman, Jason Kahn, Christian Kesten, Toshimaru Nakamura, Andrea Neumann & Sabine Ercklentz, Wadada Leo Smith, and The Hub. His music has been released on Elektra/Nonesuch, Artifact, Tzadik, Creative Sources, Wergo, and pfMentum. Trayle's work was the subject of an article in Escape Velocity: Cyberculture at the End of the Century (Grove/Atlantic), and he has written articles for Leonardo Music Journal (US/UK) and MusikTexte (Germany). He teaches in the School of Music at California Institute of the Arts.
SCOT GRESHAM-LANCASTER (b. 1954) is a composer, performer, instrument builder and educator with over three decades of professional experience. Since Fall of 2012 a professor of sound art with ATEC at the University of Texas at Dallas, his most recent research has been on the boundary between science and art specifically developing advanced techniques in sonification. As a member of The Hub, he is one of the early pioneers of "computer network" music which uses the behavior of interconnected music machines to create innovative ways for performers and computers to interact. He has recently performed in a series of "co-located" performances collaborating in real time with live and distant dancers, video artists and musicians in network-based performances. For over two decades, he has worked with multimedia prototyping and user interface theory and its relationship to new markets as an independent consultant and at Interval Research, SEGA-USA, and Muse Communications.