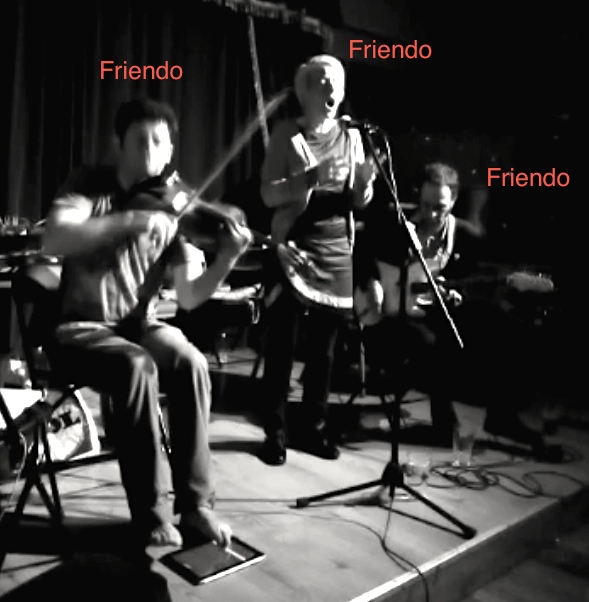 FRIENDO:
UNREAL-TIME IMPROVISATION AND SNAPCHAT
Panos Ghikas (violin, e-drums, iPad, laptop)
Jennifer Walshe (voice, trumpet, iPad)
Johannes von Weizsäcker (electric guitar)
Friendo propose a new approach to interactive music making, by reconfiguring improvised material and subjecting it to compositional and networking processes. Each performance contains layers and combinations of duets and trios that integrate real-time actions and non-real-time processing through the use of recording, gestural transformation and mobile scoring.
Through Friendo, Ghikas, Walshe and Weizsäcker attempt to address the dynamic field between composition and improvisation and subvert the language of real-time interaction by means of inserting compositional modes of temporality. Friendo explore and operate on both self-contained and open networks.
Panos Ghikas is a composer, improviser, producer and lecturer. His output encompasses concert music, free improvisation, interdisciplinary collaborations, film music and pop production. Panos is Lecturer in Music at Canterbury Christ Church University. He also runs Migro Records.
Jennifer Walshe is a composer, vocalist and improviser. She has received numerous scholarships and prizes, enabling her to live and work in Stuttgart, Berlin, Chicago and New York, where she started a series of collaborations with Tony Conrad. Her compositions have been performed all over the world. She is a Reader in Music at Brunel University.
Johannes von Weizsäcker is a composer, improviser and writer. His output encompasses pop production, music for film and other media and writing as a music and film journalist in Berlin. Since 2000, he has been co-writing, recording and performing with Panos Ghikas worldwide in avant-pop group The Chap. His latest solo project is called Erfolg.