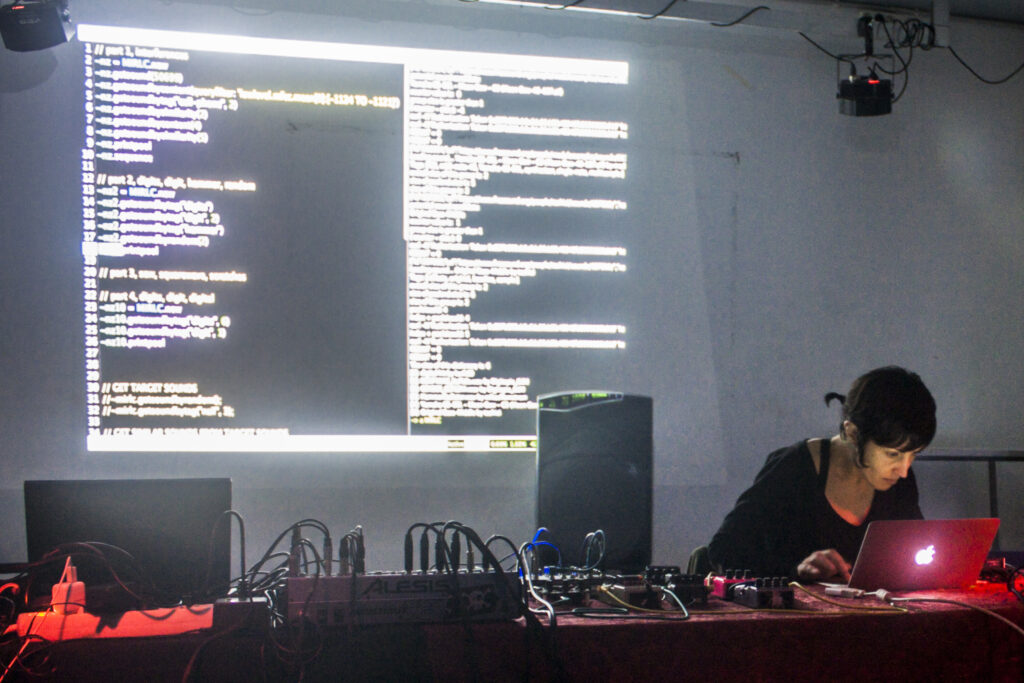 In this live coding session, an exploration of how the network sounds will be conducted. Crowdsourced sounds from the Internet will be retrieved, transformed and vanished. This process will be combined with the sound emitted from the network router that is used for transmitting and receiving data.
The self-built tool Music Information Retrieval for Live Coding (MIRLC) is a SuperCollider library that expands the Freesound quark, which has been developed to allow the live coder to retrieve or rewire sounds using a simple syntax and semantics. Sounds can be retrieved by keywords or content characteristics from the online Creative Commons sound database Freesound.org. This can be seen as an asynchronous remote collaboration with the creators of the audio samples mediated by a world-wide live-coding sampler, where the properties of the network are included into the musical aesthetics (e.g. asynchronous requests, time of downloads).
---
Anna Xambó is a Senior Lecturer in Music and Audio Technology at De Montfort University and an experimental electronic music producer. Her research and practice focus on new interfaces for music performance looking at live coding, collaborative and participatory music systems, and multichannel spatialisation. Her solo and group performances have been presented internationally in Denmark, Germany, Norway, Spain, Sweden, UK and USA. To date, she has released three solo recordings: init (2010, Carpal Tunnel), On the Go (2013, Carpal Tunnel) and H2RI (2018, pan y rosas). Her solo works are known for their unique sound of working with hypnotising basses, industrial ambiances, and noise as concept art. She is co-founder of the online records label Carpal Tunnel and has taken leading roles in two organisations with a special interest in improving the representation of women in music technology: WoNoMute (2018-2019, NTNU/UiO) and Women in Music Tech (2016-2017, Georgia Tech).
https://carpal-tunnel.bandcamp.com
(Image credit: Helena Coll)