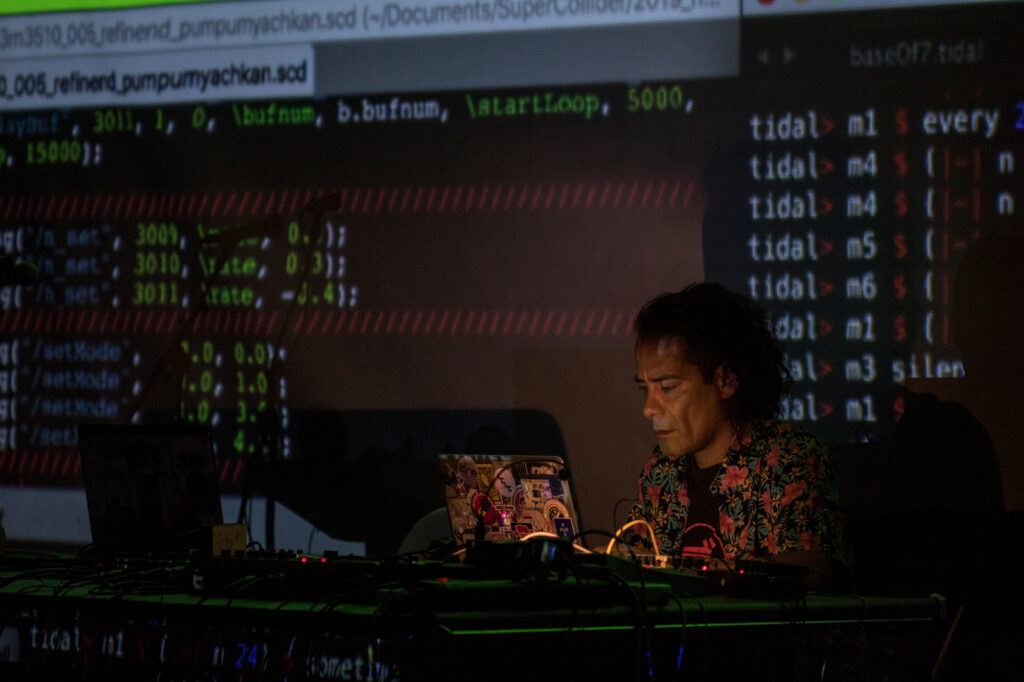 rendezVous is an audiovisual algorave performance based on live-coding of MIDI sequences via TidalCycles, audio samples and Text-to-Speech in SuperCollider and reactive audio visuals developed in Processing, that arises from the reflection around human contact as a problematic event and takes as reference a collection of audio and video samples taken from the internet and that recompose the image of the appointment and the encounter from a cinematic, kinetic and autobiographical approach.
The work reflects and reinterprets the author's own audiovisual imagery, with a retro-futuristic aesthetic, where live-coding is understood as a post-apocalyptic cultural manifestation that operates as an exercise in re-appropriating memory, dialogue and updating it in the "now".
---
voodoochild/ is a cyberpunk music project formed in 2005 and currently based in Valdivia, Chile, whose only human member is Christian Oyarzún, a media artist and musician who operates as the band's programmer, visualist and bassist.
The configuration (visuals, Text-to-Speech, MIDI, human and code) has been a constant of the project. Technically, voodoochild/ was originally a platform programmed in Processing and Arduino. Subsequently, the band has tended towards practices linked to live-coding, incorporating technologies such as SuperCollider and TidalCycles in their performances.
voodoochild / has presented his work in contexts such as algorythmicXperience in Transitio MX (2009), SHOUT! in Tsonami Buenos Aires (2012), redemptionSongs in 12BAM Santiago (2014), psy.dr34m5: karmaZqncer at International Conference of Live Coding 2017 (Morelia, MX) and m4LD1Tx5UD4K4 in Lúmen 2018 (Punta Arenas) and International Conference of Live Coding 2019 (Madrid, ES).
https://www.youtube.com/user/coyarzun
https://soundcloud.com/imavoodoochild
https://voodoochild.bandcamp.com